Promoting your own business requires time. What if you're just too busy?
Fitness trainers know the feeling. They get into the office at 5 a.m., have a full day of work, and are out the door by 8 p.m. (if they're lucky). Aside from their actual job, trainers just don't have the time to promote and market their company.
With full schedules, fitness professionals often try to do their own online marketing. This creates two major issues:
Distraction from primary job
Ineffective Website Solutions
1. It is easy to get caught up about money. People see outsourcing as a waste, so they operate business on their own. This is dangerous! Unless you're superman, you will drive your company to the ground by trying to juggle too much. You need to focus on your own expertise. Hire professionals to do the rest and watch your company's sales increase.
To learn more, watch our friend Bedros Keuilian talk about "The 5% Rule" here.
2. There is more than meets the eye in fitness marketing. A website may look good, but does it have Search Engine Optimization (SEO)? Is it tracking your leads on a quarterly basis? If not, your site could be invisible. From hiring a fitness marketing company that uses these strategies, you can expect the visibility of your website to increase.
You need a qualified team of professionals to craft your fitness website.
Locus Marketing is fully equipped to handle your marketing needs. We take on the heavy-lifting of your marketing campaigns, allowing you to focus on what you do best. With many years of experience under our belt, we have refined our skills to make your job easier, and your company more visible to prospective customers.
OnTheGo Bootcamp has seen a huge increase in web traffic since working with us. So far in August, they have attracted 1,858 people to their webpage. While the majority of their leads were based off of direct searches, a large percentage were also organic searches– meaning they were found through SEO keywords. Social and referral searches brought sufficient traffic to their website as well.
This is just one example of the dramatic increase that companies experience after working with us. Join our team and you could be next!
We get it, time is your best friend.
That's why we invest ours in helping you build business through highly targeted web-based marketing and communications.
Like what you see? Sign up for a free strategy call!
Think about the last time you were looking up a restaurant or activity online. Did you read reviews from others to determine whether it was worth the money and time? You most likely did. In today's world, the Internet opens up many possibilities to communicate the benefits or drawbacks of services or products. In a business, such as fitness, where the service is not tangible the use of customer reviews is of the utmost importance. According to a Bazaarvoice survey, 76% of consumers regularly or occasionally use online reviews to determine which local business to use. Customer testimonials are a huge driving force behind successful fitness companies and fitness web design because they prove to others that the results of your clients are possible for them.
Telling someone you can change their life and give them the results they are looking for is great, but seeing results and hearing them from another customer is much more influential. Potential clients will always be more persuasive than the business itself. Creating a strong level of social proof helps people to make decisions more easily and trust the business they are beginning to work with. Minimizing skepticism and maximizing social proof through customer testimonials is a guaranteed method to bringing in a constant stream of new clientele.
Let's talk about three main factors in determining how much influence social proof has:
Scale
Similarity
Ambiguity
Now let's break each of these down and explain their impact.
Scale: This requirement is all about the power of numbers. People are more likely to do or buy something if a large quantity of individuals tell them it provides benefits. Hearing the positive results of 15 people has a greater impact hearing from five. Our fitness web designs provide ample space for customer testimonials and proven methods to organize them.
Similarity: We are more inclined to connect with someone's experiences if they are similar to us. Similarities can be anything from gender or race to hometown or career. This means it is important to incorporate testimonials from a wide variety of customers, to increase the chance of potential clients connecting with at least one of them. It is important to appeal to many potential audiences and not limit your testimonials by featuring customers that are all similar to one another.
Ambiguity: A lack of familiarity causes potential customers to stray from deciding to buy a product or sign up for a service. The most surefire way of combating ambiguity is to create a strong sense of social proof. Customer testimonials are the most effective way to create undeniable social proof. It is harder to argue against the success of a company if they have multiple convincing customer testimonials.
We believe fitness web design and customer testimonials go hand-in-hand to ensure the long-term success of fitness professionals and their facilities. We place a high level of importance on utilizing testimonials as a main focus of our web designs because of the huge benefits they provide.
Make Your Testimonials "Benefits-Driven:
Customer testimonials need to be solely focused on the benefits of your fitness practice. It is great to have customers speaking highly of you, but they need to highlight the direct benefits of your service to be successful. Testimonials that are benefits-focused are hard to argue with, and leave potential clients without reason to doubt your validity.
Now that we have gone over the reasons customer testimonials are important, it is time to discuss how to make them as effective as possible.
We recommend keeping customer testimonials on the shorter side, but also not short enough that information is left out. It is important to maintain the attention of the reader or viewer while getting all of the benefits of your service across.
Video testimonials or testimonials that incorporate images are much more successful than text by itself. Social proof is increased with images because results are visually understood and leave little room of skepticism.
Within the text or video, it is important for your customer to emphasize the benefits and values that your business was built on. These are suggestions on important elements to include in a benefits-driven testimonial:
Backstory and what they wanted to change about their bodies or physical fitness
The tangible results the fitness studio has helped them achieve through before and after photos
The culture or environment of the studio
Other studios or plans they tried that did not produce the same results
How their lives have been changed
Each of these components gets across the benefits of working with your studio while providing ample opportunities for potential clients to connect with current ones. It is important to have testimonials that are personal and express emotions so that the testimonials do not seem like commercials. The benefits of your business should be heavily implied, but while keeping the testimonial about the customer's experience and their results.
Overall, benefits-driven customer testimonials improve businesses because they:
Increase social proof
Limit skepticism and ambiguity
Are not directly trying to sell something
Are easier to connect with
Directly explain and display the benefits someone has had as a result of joining
Endorse benefits and values without being an advertisement
Bring in new audiences and demographics
Here at Locus Marketing, our marketing services are dedicated to helping you create and promote customer testimonials in a proven and effective manner. Our web designs portray your testimonials in a logical way and provide ample opportunities for potential clients to learn more and sign up for a free offer. In addition, our WordPress plugin Awesome Fitness Testimonials, assists with the creation of testimonials that follow all of the suggestions listed above. We understand the power of customer testimonials and want to help you reach your maximum potential by utilizing them. Grab your free copy of the Awesome Fitness Testimonials plugin today and reap the massive benefits we have to offer.
Want to learn more?  Read the Customer Testimonials Part 2 on the design of testimonials on your website and options to obtain testimonials from your customers next month!
Recently, many of you have been asking us how to use pixels in Facebook. This article is dedicated to helping you understand what they are, their importance and how to use them to track your audience and conversions.
First of all, there were two types of ad pixels Facebook offered: custom audience pixels, which were used to create website custom audience and conversion pixels, used to optimized ad campaigns while tracking conversions. Now there is only ONE pixel to do BOTH functions.
What we recommend you use:
View Content – to see who looks at your website
Complete Purchase – to see who buys your service or product online
Lead and Complete registration – these will help you track sources and behaviors of leads
Cool, but how will it help me with my business?
This new pixel provides you with more effective conversion tracking which will help you understand leads to redesign your strategy for a higher ROI.

Awesome! How do I install it?
1) First you are going to find your Pixel ID.
Go into your Ads Manager dashboard
On the left column click "Audiences"
Click into the name of an existing Website Custom Audience (if you don't have one, create a new one)
Facebook will then open a new window
On the right you'll have an info box which will show your pixel ID
2) Next you are going to learn how to track your generic Audience and Conversions on all your Facebook pages.
You are going to click on your "Appearance" tab on the left column of your WordPress account (highlighted in blue in the photo below). Scroll down to "Theme Settings". Once you are there, you are going to copy and paste your Facebook Pixel ID into the textbox labeled "Custom Code for <head> tag", located at the bottom of the page.  Hit "Publish" or "Update".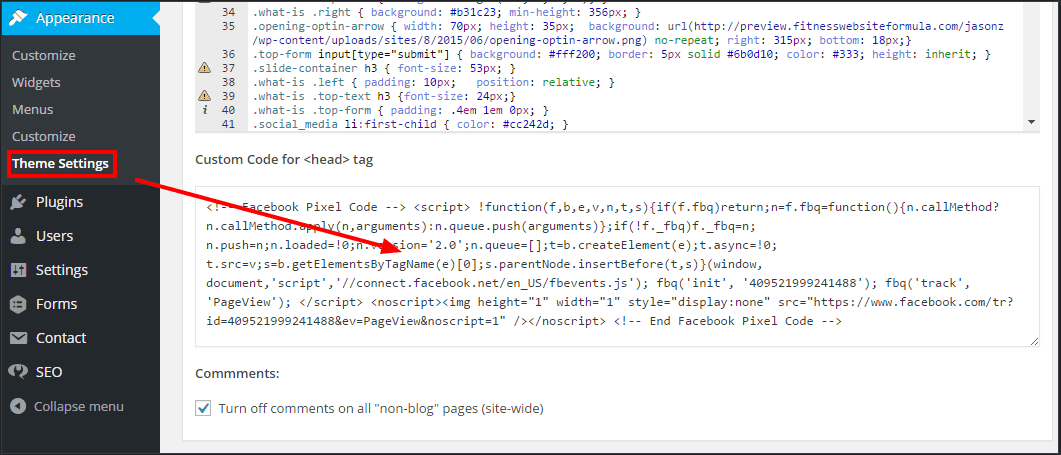 3) Thirdly, you are going to learn how to track conversions on a specific page. In this example, we are going to show you how to do it on your "Thank You" page.
After you have found your Pixel ID, login into your WordPress Account. As the picture below shows, you will click "All Pages", scroll to the bottom of the page, then copy and paste your Pixel ID code into  the text box labeled "Conversion Pixel". Make sure you also check "Insert Facebook Conversion Pixel code on this page", as the picture shows. Click "Save".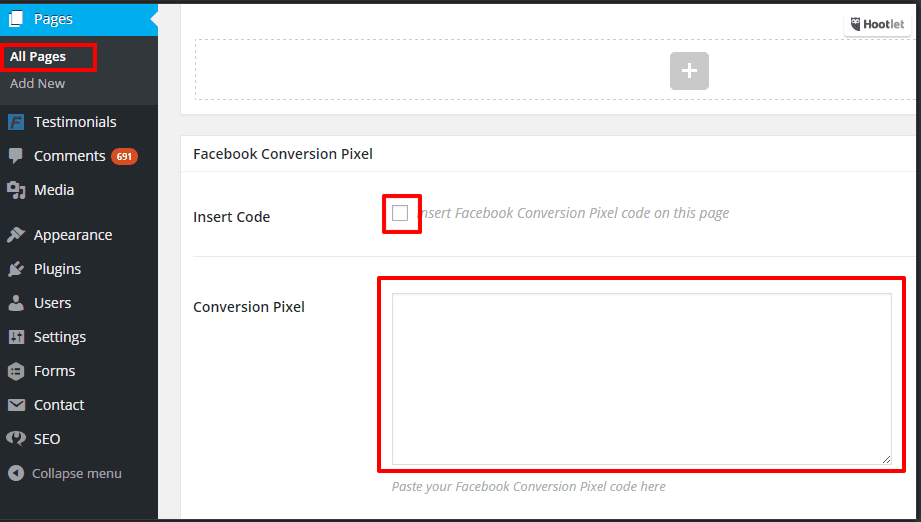 Cross-Device Reporting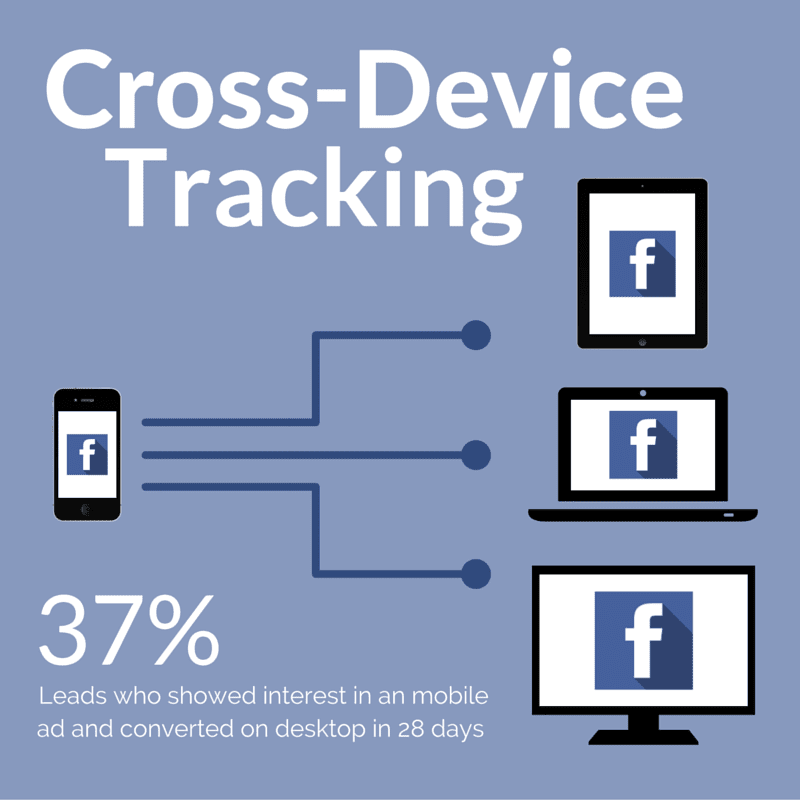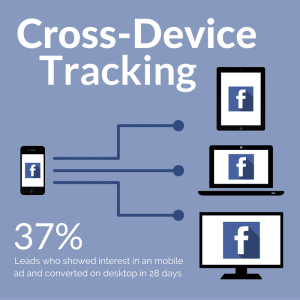 After installing the pixels you will be able to be able to track conversions of leads from their different devices.
For example, a lead might see your Facebook ad while they are away from home on their mobile device. It is doubtful they will convert right then and there, but it likely they will think about and remember your ad, then on convert later on their tablet or desktop computer.
Why is this Important?
Facebook reports that 32% of people who showed interest in a Facebook ad on a mobile device converted on a different device within 28 days.
It is becoming increasingly more common for leads to show interest in a mobile ad and then convert using their tablets or computers. Knowing this information about leads can help you better plan and strategize your marketing campaigns.
To View Cross-Device Tracking
After installing the Facebook pixels, go to your Facebook Ad Reports. Click Edit Columns and select Cross-Device on the left side.
Takeaway:
We hope this step-by-step instructional guide for setting up Facebook Pixels was useful to you. Implementing Facebook pixels can help you optimize your Facebook ads, track audience and conversions to help you shape your marketing campaigns accordingly.
If you would rather hire someone to manage your ads, learn more about our Digital Adverting solutions.
Landing Pages are the bread and butter that draw in clients. They're informative, direct, and can really tie a website together. Many times it's the first impression of your site that a potential lead will see. So it's crucial to have one that motivates them to learn more about your services by entering their information and becoming a full lead.
Here at Fitness Website Formula, we understand how crucial a great landing page is for our clients. We feel driven to create pages that not only stand out, but drive in sales; turning leads into loyal clients. 
Ultimately, a good landing page should encompass these eight aspects:
Catchy headline
Compelling offer(s)
Informative videos and tips (i.e. weight loss, etc)
Strategic placement for subscriptions/sign up forms
Scarcity factor (e.g. limited time offer)
Social proof (e.g. testimonials)
Mobile optimization
Strong call to action (flow of copy itself)
Below are examples of landing pages we have recently created for our clients.
But what's the difference between a "good" landing page and successful one? Maybe you have some or all of these eight tips already on your website but still aren't turning a profit. With our Fitness Website Formula, we utilize all eight aspects and turn our clients into successful business owners through our compelling landing pages we tailor make for their business needs.
How do we do this?
We use our direct-response driven web designs to draw in leads for our clients
We are experienced in sales copy writing so our client's leads take action
Our client's websites have a high rate of traffic conversion
We have a proven sales funnel for our client's websites
Last but not least, we constantly measure and improve our process
We know how challenging it is to create a website on your own that brings in sales. You are running a business and you need all the help you can get.
Do you need a professional help? Let us help you with our Website Design services!
Last month, we covered the purpose of customer testimonials for small businesses and how to ensure they are benefits-driven. This month, we want to go over the integration of testimonials on your website and ways to obtain testimonials from your customers. It is awesome to have testimonials, but if they are not displayed correctly the purpose is diminished. In addition, it is one thing to say you want to use testimonials and another to figure out how to get them.
We are here to help you achieve successful testimonials that accentuate your web design and continually drive in new clients.
Testimonial Placement
It is important to display your customer testimonials in a manner that will attract people to view them, not turn them away. It is easy to crowd testimonials on your page or have them look scattered and unorganized. Although you want to place as many testimonials as you can, placing them without a plan defeats the purpose.
We constantly test our web designs to ensure testimonials are being portrayed and organized in the most efficient and results-proven way possible. By doing this we have some suggestions for testimonials on your website:
Place testimonials in a central location on the main page of the site
If you have many testimonials, list them below the key information on the front page or create a separate area on the site for them
Incorporate long and short testimonials
Video testimonials
Geo-target testimonials
Images
Source of testimonials
The Locus Marketing service incorporates all of these ways to obtain testimonial value on your site. We have a proven design for testimonials that achieves constant traction and we believe you should incorporate long and short testimonials. All of our sites are SEO based and geo-target testimonials to potential clients. Images are important for testimonials to further social proof, and we also encourage videos to provide a deeper personal element. Lastly, the source or name and location of your testimonials furthers the value by continuing to prove credibility and limit skepticism.
Obtaining Customer Testimonials
As you can see, testimonials are an amazing way to increase social proof for your business and drive in new clients, but how exactly do you get these testimonials. There are more ways than you probably knew to achieve testimonials from your happy customers.
The most common and arguably easiest and best way is to reward your customers for their testimonial. Offering a free personal training session or another incentive will cause many of your customers to want to help out. Sometimes though, simply asking a thrilled customer is a good way because they could want to promote their success working with you.
Social media and other online sources are another way to obtain customer testimonials. Some examples are:
Facebook reviews
LinkedIn recommendations
YouTube video reviews
Local search directories
Niche review sites
Google alerts and social mentions
All of these sources are great ways to find leads to testimonials and require little effort. Social media is a powerful tool that can help your business grow and succeed in more ways than engagement and promotion.
Call to Action
One of the best things you can incorporate along with customer testimonials is a call to action. It is strategic to place "Free Consultation" or "One Free Week of Group Classes" buttons next to testimonials on the web page so it is simple for potential customers to get started. This diminishes the time or effort between deciding you want to try something out and taking the step to actually sign up for it. Placing testimonials in different areas of your website allows for  more call to action buttons for customers to decide to click on.
All of our web designs take advantage of call to action buttons placed prominently on the site. We have found that call to action buttons for a "Free Consultation" or "Free Week of Classes" are the main driving force for getting new leads.
Accompanying customer testimonials with call to action buttons makes an easy transition for people to take the next step after deciding they want to try your service. Making the process simple erases any leftover hesitation people may have before deciding to try your business out.
Last Words
Our goal is to ensure you have all of the tools necessary for a successful fitness business and that you consistently are increasing your clientele. We have top notch web designs that place you at the top of the game and above your competitors.
We understand the power of testimonials and the importance of their placement on your site. As we explained in part one of this post, our plugin Awesome Fitness Testimonials will cover all the bases of creating and presenting customer testimonials on your site. The purpose of testimonials is to generate solid and strong leads every month, and we are confident we can make that happen. Let us help you take your customer testimonials to the next level and use them to their highest power. Sign up for the Awesome Fitness Testimonials plugin today!
Look around and take note of how many people are on their phones. It will be almost everyone. In today's age we are connected to our mobile phones at the hip. So as business owners, shouldn't we be utilizing mobile resources for client retention?
Mobile App Marketing is a simple but highly effective way to retain your current clients by connecting with them on their most used piece of technology. Speaking literally, you will constantly be in your clients hand and on their mind by having a mobile app for your business.
One of our new Fitness Website Formula services is a personalized mobile app. This app will allow you to:
Build a long-lasting customer relationship
Increase customer retention
Share "member-only" content
Send real time notifications via push notifications
We will be going into details of how the above work, but let's take a look at the possibilities of mobile app marketing in regards to customer retention.
Consumers are flocking to their mobile phones for information at an overwhelming rate. Audiences are currently spending a significant amount of time per day and that rate is constantly speeding up. According to SEO and Marketing Blog, MOZ, in December 2011, the average person spent 94 minutes per day on their mobile devices and one year later that number has jumped to 127 minutes per day.
Using mobile devices to increase client loyalty is more effective than just having the website for people to view on their phones. Adobe's Digital Marketing Report stated that mobile app users are more loyal to a brand than they are by simply visiting the website on their mobile phone.
People spend an average of 24 minutes in an app, versus 13 minutes on smartphone web sessions
App usage outpaces mobile web visits by an average of 100 minutes per month
As you can see, mobile apps are the most effective way to reach your clients because they target them in the most convenient way. It is much easier to click onto an app than to search through the Internet on a mobile device, so taking advantage of mobile resources is in all business owners best interest.
There are three key ways to increase customer retention and maintain relationships on a mobile app:
Provide an easy outlet for customers to provide their feedback. Many customers want to give their ideas and opinions on your business and giving them the opportunity to do so drives their investment in your company even higher.
Allow space for customer research that is beneficial to your company and makes your customers feel involved. Asking your audience specific questions about products, practices or anything else provides you with detailed and constructive responses to help better your business. In addition, people feel involved when their opinions matter to the company and asking them these questions through a mobile app is simple and convenient and they will be more inclined to participate.
One-on-One communication and personalized messages attract clients and keep them using your app on a regular basis. In this day and age, generic business messages are ignored and seem highly outdated. By utilizing a mobile app, your business is able to personalize messages and connect with clients through technology. Mobile apps are the closest thing to face-to-face communication because they allow open conversations and personalized interaction.
Unlike social media platforms, mobile apps allow you to promote "member-only" content, promotions and events. There are times when information is not relevant or able to be sent out to the online world, but your customers still need to be reached with it. Since mobile apps are more engaging to consumers, they will be more inclined to check that then they will be to open your email blast. Mobile apps allow you to share what you need with certain groups and get your important information across on a private platform only for your clients.
Sending notifications on your mobile app is another effective way to maintain customer retention. In your personal life, you check your social media sites and apps after you get a notification because it draws your attention back to it. Notifications keep you on your clients mind even if they are not actively keeping up with the app.
With our new Fitness Website Formula service, we wanted to provide our clients with the capability to use a mobile app for their business. We are confident mobile apps will increase the success of your business and be a significant addition to the online presence we create for you. Given the many positives of mobile app usage, we knew this was a service our clients needed in order to continue beating their competition.
Reach out to us today and start up your mobile app. You will be shocked at the level of customer retention and engagement this service will provide.
Takeaways:
People are spending increasing amounts of time on their mobile devices
More time is spent on mobile apps than on mobile web searches
Customer retention is maintained through personalized messages and opportunities for feedback
Mobile apps provide an easy way to perform customer research
You can promote "member-only" content to your current clients through an app
Push notifications keep your business on your clients mind
Mobile app marketing is convenient for your clients and your business
We are offering mobile apps with our new Fitness Website Formula service!!